Justice for Breonna Taylor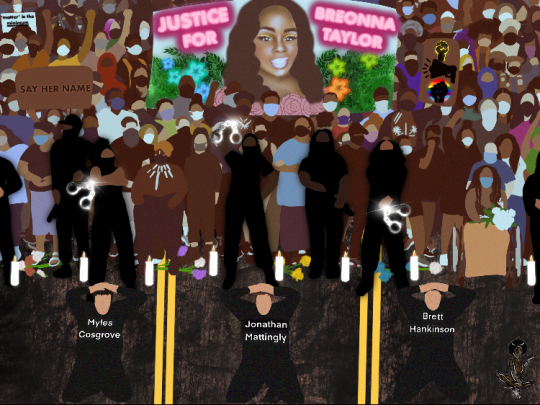 This piece is entitled "The citizens' arrest" and it draws inspiration from its legal namesake. I wanted to illustrate a world where the cops (Myles Cosgrove, Jonathan Mattingly, and Brett Hankinson) are being apprehended for their murder of Breonna Taylor. The large crowd represents the massive number of people across identity lines, who have been protesting police brutality this year. These masked protesters show variations in gender, age, disabled/non-disabled, and racial groups. This is to demonstrate that there is indeed power in numbers, and that similar ideologies can bridge disparate identities. Police brutality disproportionately affects Black Americans & Native Americans. But in order to create lasting systemic changes, the action of the population at large (particularly white Americans) is absolutely necessary.
I also wanted to raise the question of whether certain individuals in this piece are mediators, vigilantes, violence interrupters, & or militia. I am hoping to spark conversations about alternative modes of justice. I support the ongoing movement for defunding the police, and ultimately the abolition. After we redistribute the funds (once used to fuel the police & prison industrial complex) to community building initiatives, we may wonder what or whom else we will enact in their place.
Aug 2020